On January 27, 2020,
ASCO
released the
Germline and Somatic Tumor Testing in Epithelial Ovarian Cancer Guideline
.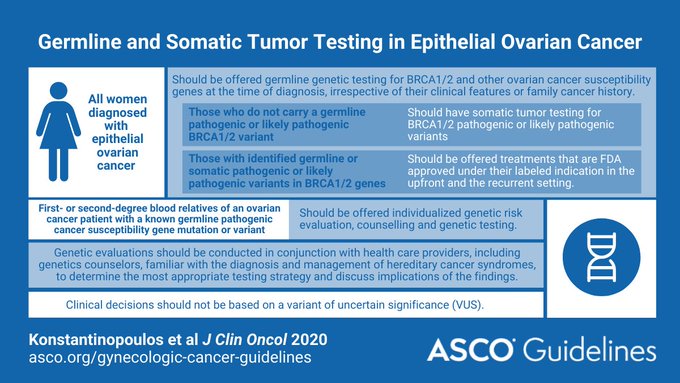 © 2020 American Society of Clinical Oncology, all rights reserved.
Recommendations from the ASCO website include:
"All women diagnosed with epithelial ovarian cancer should have germline genetic testing for BRCA1/2 and other ovarian cancer susceptibility genes
In women who do not carry a germline pathogenic or likely pathogenic BRCA1/2 variant, somatic tumor testing for BRCA1/2 pathogenic or likely pathogenic variants should be performed.
Women with identified germline or somatic pathogenic or likely pathogenic variants in BRCA1/2 genes should be offered treatments that are US Food and Drug Administration (FDA) approved in the upfront and the recurrent setting.
Women diagnosed with clear cell, endometrioid, or mucinous ovarian cancer should be offered somatic tumor testing for mismatch repair deficiency (dMMR).
Women with identified dMMR should be offered FDA-approved treatment based on these results.
Genetic evaluations should be conducted in conjunction with health care providers familiar with the diagnosis and management of hereditary cancer. First- or second-degree blood relatives of a patient with ovarian cancer with a known germline pathogenic cancer susceptibility gene variant should be offered individualized genetic risk evaluation, counseling, and genetic testing.
Clinical decision making should not be made based on a variant of uncertain significance.
Women with epithelial ovarian cancer should have testing at the time of diagnosis. "
You may read the complete guideline with recommendations and evidence from the 19 studies reviewed for the guideline at
https://www.asco.org/research-guidelines/quality-guidelines/guidelines/gynecologic-cancer#/142631
Dee
Every Day is a Blessing.